this is a review of my 3 other liner brushes. i've already written a review on an ellanaminerals liner brush (click the word ellanaminerals) that i STILL use and love and recommend. so with that said, i begin my review.

from the pictures included in the review from top to bottom, the face shop gel liner brush, elianto liner brush, and the coastal scents' bent/angled liner brush.

when i bought my bobbi brown long wear gel liner they offered the gel liner brush that is used with it. but that bobbi brown liner brush came with a bobbi brown price tag and thankfully my sister in law said for the both of us, that we weren't interested and we only bought the long wear gel liner one for each of us.

1.) THE FACE SHOP GEL LINER BRUSH-- i was able to find a perfect dupe for that bobbi brown gel/cream liner brush at my other church, THE FACE SHOP. TFS' gel liner brush, looks the same, a tad shorter and have the same not so stiff synthetic bristles AND FOR A FRACTION OF THE COST at PhP225
whereas BB's is US$25 (without shipping fee and Phil taxes). so i was given two of these TFS' for xmas thanks to a monito monita at work. i gave one to my sister in law and the other is mine. it has a fine tapered but slightly rounded tip. it worked out great and it doesn't shed, even after several washings. it picks up a little too much of the bobbi brown gel liner for my taste. it works for those smokey eye effect or cat eye but not for the look i've been to sport in the past month, which is more of a spring, natural, china porcelain doll. so NEXT...

2.) ELIANTO liner brush. retails at PhP99. so fine i get what i pay for, but i would think i would get better quality than this crap! just look at it. the hairs stick out unevenly. you end up poking yourself in the eye with one of the bristles. i bought this cuz foolishly i thought i wanted, OF ALL THINGS, a brush with natural hair for my mineral shadow liner from bare escentuals. so FAIL
. i don't know about other elianto products but this brush in particular SUCKS, prickly, doesn't apply my BE shadow liner well, nakakagalit lang
even to set my long wear gel liner i won't even use this because of the uneven hairs some powder go on my lashes not my lash LINE.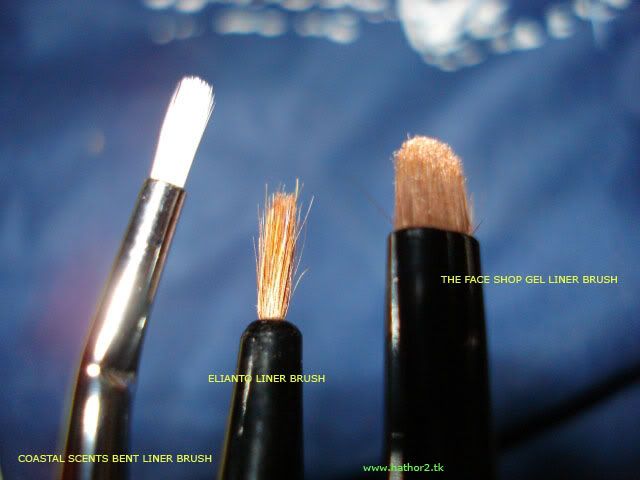 3.) COASTAL SCENTS bent/angled taklon liner brush- taklon is a type of synthetic brush. so ya i'm pretty sure corona paint brushes have one just as thin and pointed as this one at national bookstore, just that those aren't bent. i have a review of my first coastal scents experience here. synthetic brushes are better in picking up and spreading creams, gels, and liquid foundations, etc. so i got this for a finer line while using my bobbi brown gel liner and all i can say is this bent liner brush and my ellana liner brush is what i reach for for lining my eye. i use this CS angled liner brush for the gel liner while i use my ellana for my bare escentuals mineral shadow liner to either set my BB gel liner or alone for a more natural non-cadaver looking everyday looks.

as mentioned on my CS experience, they ship to the philippines, and ellana minerals have bazaars every weekend and she has an online store just visit www.ellanaminerals.com, click HERE to get to her calendar on her multiply site.