before i start i would just like to say that i am all for bargains and love inexpensive yet quality items. whether they are clothes, tech stuff, cosmetics. the only thing i don't scrimp on is food. either it's good quality food, i withdraw, or charge it, or magutom til i get home then eat reby's home cooked meal. you have to love, take care, know, what goes in your body, that stuff you apply ON your body takes less time to get in and can be washed off most of the time.
so don't get me wrong, on top of the fact that it's my business where and how i spend my money, the stuff i buy are indeed affordable.
my first item from elf is there foundation brush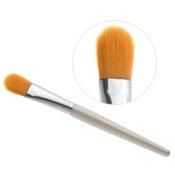 , thanks to my sister in law who found it at a bazaar. now both my mom (who has her own) and i love this brush. it's a great starter brush on using liquid foundations. when i'm lazy to use my fingers, i even use this to apply my moisturizer. it gets in to the little corners of my eyes both the inner and outer corners. that's US$1.oo but my sis got it for me for an even hundred, at the mall it's PhP129.oo
pwede na kung paisa-isa lang naman binibili mo

.
ALL ELF ITEMS ARE US$1.oo, ONE U.S. DOLLAR. so, us mortals in the philippines have to pay extra for importation tax, shipping, mall prices, etc.
most of their regular brushes suck, but hey it's a dollar, made of natural horse hair from china, their email support say cruelty free, DAW. fine, they're STILL SCRATCHY except for their ever poplular c or eye shadow brush, behold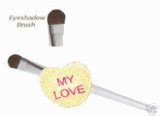 . it's really soft, can pack in the pigment of any eye shadow, standard or mineral. it's a good purchase even at PhP129. it doesn't shed or bleed either. like i mentioned most of their brush suck except for this eye shadow brush, and their synthetic foundation brush mentioned above.
next would be my elf elements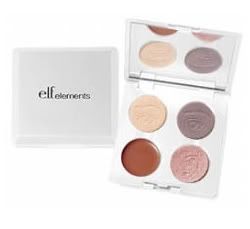 again, the compact palette is a dollar, each pan eye shadow is also a dollar. it has a big mirror. and the compact itself seems like it cost more than a dollar, it's sturdy nice packaging. the pigments especially the lilac color there and the periwinkle color there are VERY pigmented, don't crease and last all day even on my oily lids, they're on the flaky side but i can live with it considering i'm used to mineral eye shadows that are loose.
elf phils have just 3 prices, 89, 129 and 399. so i stay at the 89 and 129 price range.

next is my butter pecan cream shadow: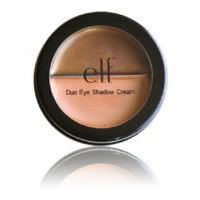 i think i wear this almost everyday, because it's cream and it's so easy to apply with my pinky finger. for that 10min everyday (office) look the most wearable of all their cream shadow variety. it only looks shimmery but isn't. apply a very very thin layer and what i do is set it with a little mineral eye shadow of the same shade family otherwise this thing creases.

next is my pink lemonade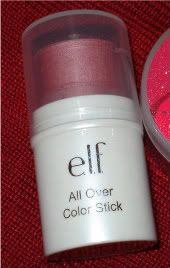 its a blush highlighter cream stick. it gives a nice pinky flush and a little sheen on the appropriate areas for highlighting. it smells so nice like tweens' stationery
and now for their STUDIO LINE: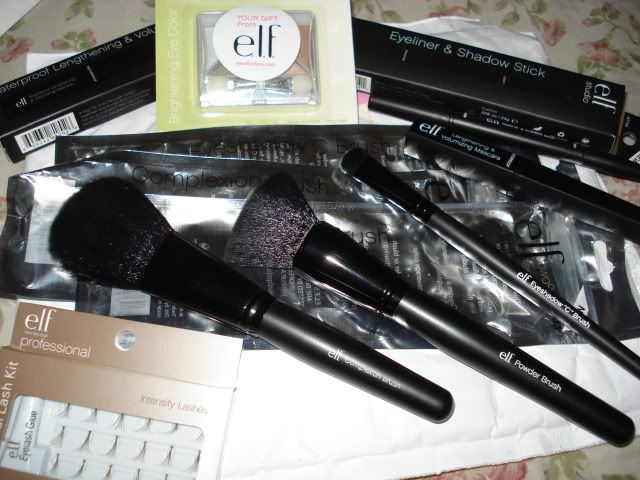 ok the stuff in picture above, the black ones, are not available in the philippines. i ordered them in a place with a stateside i.p. add, DID NOT HAVE TO PAY FOR THEM, had them sent to my awesome sister in law in sacramento. here now is the hate part of my relationship with elf. 1. the studio line is not available here. NEARLY ALL STUDIO LINE products are US$3.oo, so almost PhP150. keri parin considering their competition. it took me what seemed like a root canal appointment ordering these. vernacular muna otherwise i'll end up saying things in a positive manner. una, topak ang paypal nila, so fine use the ever handy hsbc ayaw parin pilit na nangingibabaw yung paypal that i first tried. fine clear the cookies and cache. after emails upon emails to their paypal guy michael, o ayan sis, matahimik ka na, di ka na lang namin ichacharge. happy mother's day. may gift pang kasama (but that's standard everytime you order online, THERE sa tate) true enough, the items got to my sister in law's office and i was not charged on my paypal or credit card. so why did i order these online and at a place where the i.p. add is state side? because i wanted to try the studio line that people were raving about online. true enough the brushes, that started the whole ordering business ARE worth the wait and aggravation, and hey it's free, even the shipping was for free. pero had it not been for free, i should've paid US$16.oo why? cuz at the time i was ordering their studio line was on half off, so each studio line product is only a dollar and a half.

the studio line brushes are all synthetic, have washed them and they don't shed or bleed. i am very happy with these free stuff. hahaha
lastly, they have shitty shipping, they don't use usps. they use fedex, then the fedex guy drops off your stuff at your post office then your regular cartero brings it to your office or place of residence. and their shipping is more expensive because their fedex blah blah. buti pa talaga coastal scents, 3 dollars shipping even to the philippines, oh ha san ka pa.
last hate: my elf girl at robinson's gale is leaving to be a stay at home mom, nako sana talaga mapanagutan ni mister yang udyok na yan.
recommendations: i recommend their elf elements eye shadows, for a dollar or 89 bucks, it's well pigmented, lasting and do not crease, the cream shadow(s) are ok, easy to use, wearable, just don't put too much or they will crease like nobody's business!
their bronzers are matte, so if you're into the j-lo glow (i'm not) give those a try, the youtube guru's like those, too.
further reviews will follow especially on their studio line waterproof mascara and their shadow liner in one
coming up, another favorite, inexpensive brand, everyday minerals.