excuse the kitteh but somehow this pose shows off the look i was sporting today the best. and before i proceed, i would like to remind anyone reading this that Miss Coney's stall in SM makati will continue to be there every weekend til the end of the YEAR. it's located at the bazaar area near the supermarket where the fruit stand is. so people near makati can drop by, payments are thru the sm cashier so if you're short on cash, these REALLY AFFORDABLE mineral makeup can be paid with your credit card.

it's sunday and it's sunny, it's as though we didn't even had a storm the last 3 to 4 days! i wanted to wear something soft, AND PINK. i have a baby pink shimmer e/s shadow from ellana minerals.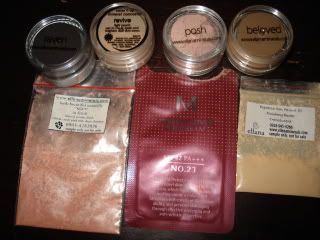 i used her mineral concealer in revive as my eye shadow base. it cancels out the purple of the capillaries that show up there. i prefer using the revive as a mineral eye shadow merely because i haven't gotten the knack of using it for my under eye darkies without making my laugh lines there more obvious. but it can be used to set other under eye concealer i.e. maybelline.

the eye shadow in posh is more shimmer than pink. the pink is ever so slight in behind the shimmer. so if shimmer is not your thing (er, like me), don't worry they have belle, a baby pink frost. but this posh opened my eyes and i'm quite fortunate that i can still wear shimmer. but this particular eye shadow imho is better for going out at night or as a highlight to frame your eyes, the bridge of your nose and your cupid's bow. and, and, let's not forget that inner corner of your eyes, the tear duct area, and what i did i lined the inner half of my lower lash line with posh to brighten up my eyes even more. the contour and eye brows have beloved and my liner is raven. beloved just makes anything wearable. whereas, i just love raven, can't get over it!

NOW FOR THE MISSHA PERFECT COVER BB CREAM. finally, sunday, the sun paid us a visit, and then some. so i needed major spf. what i love about bb creams is that it's very light on the face and it doesn't feel like makeup. this one is no exception. to compare it with some of what i tried, missha smells almost similar to my face shop skin extra bb only just a tad better. the missha bb is slightly less viscous than my face shop skin extra so blending and spreading is easier but i still prefer to use a brush for it. the ones i really like because of their consistency and ease to blend are my skin food ginko bb and the elianto bb for oily skin. as you can see i got a freebie (from multiply user trinketi) in shade 23, the darker of the two missha has. so yeah, it really is for the fair skinned like a lot of porcelain skinned ladies in korea, taiwan, japan and roc.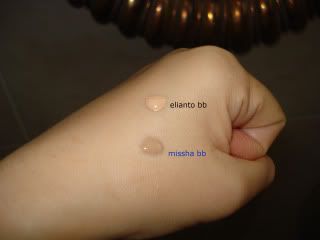 i let my skin absorb the bb and i dust it with ellana's finishing powder in espresso con panna and blushed with ellana's fettish. a really wearable day wear combo if i do say so myself.

ooops for my mascara i put on my shiseido mascara base and my max factor false lash effect, and i was off.

neither the revive concealer (that i used as an eye shadow base) nor posh creased on me. when i got home i fell asleep right away and forgot to take this off, anyway it's mineral makeup. when i woke up i feared the worse but the eye makeup merely faded RAVEN DID NOT SMEAR. have i mentioned how i love raven???