it's late and i just got shocked by the treatment i got from this seller, just click on previous blog to read the back ground.
so this person thought she was just replying to one of my messages regarding the order she received from me last june 14 and i guess she got to these messages tonight, from her hundreds and hundreds of customers.
i blotted our her site and her user out of these screenshots, to be as fair as possible. AGAIN I AM RANTING ABOUT HOW SHE TREATED ME and the root of it is the delay of delivery and the lousy timing and delayed texts responses which sounded like really bad excuses as covered in my previous blog post.
and by the way i did order the solution on her order form.
also she deleted a comment she made so i had to copy and paste it from the email notification sent by multiply.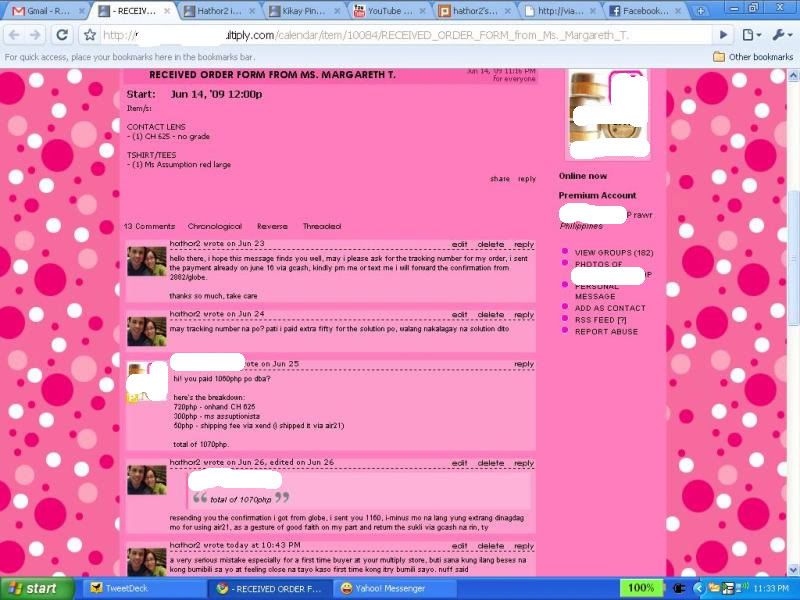 here's the deleted part:beyotchnshop wrote today at 9:43 "
PMhathor2(i said) saidresending you the confirmation i got from globe, i sent you 1160, i-minus mo na lang yung extrang dinagdag mo for using air21, as a gesture of good faith on my part and return the sukli via gcash na rin"
, she replied =
ty ok maam :)yan po ung breakdown..di ko na po kayo nasingil sa solution. so sakto lang pala payment nio. :)ung binalik kong 50php, arang naging free shipping na pala..kasi 720 per pair and add 50php for the solution
..ngkamali po kami sa part na hindi agad nkpagreply
..and sa part po nila is hiningi nio po ung change nio sa solution kahit di naman po naisma ung payment ng solution sa binyaran nio.sigh..sge ok na po un.
thank you and god bless....
so there she deleted the part where she said "nagkamali po kami sa part na hindi agad nkpagreply to which i replied to as very serious mistake so that must have pissed HER off. and even if she didn't charge me for the solution i still overpaid and when i questioned her about it she did send me my p50 bucks for the solution that disappeared.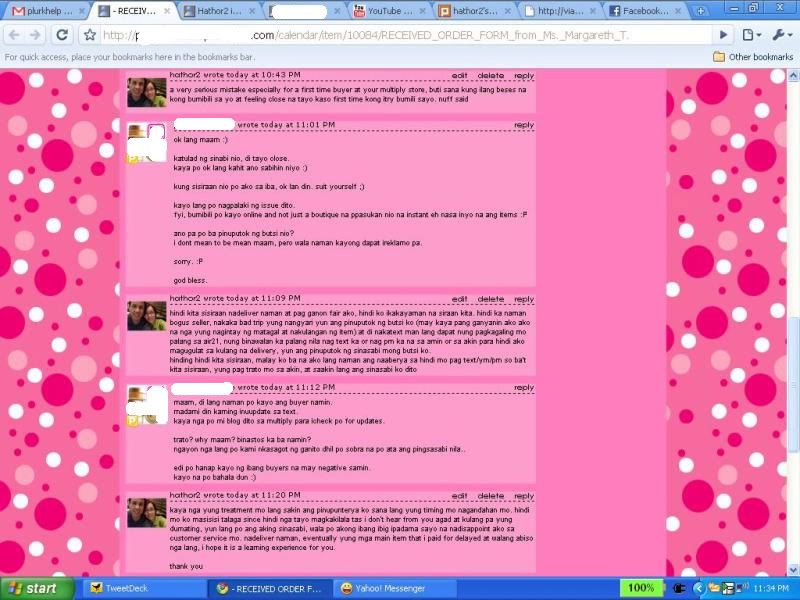 next: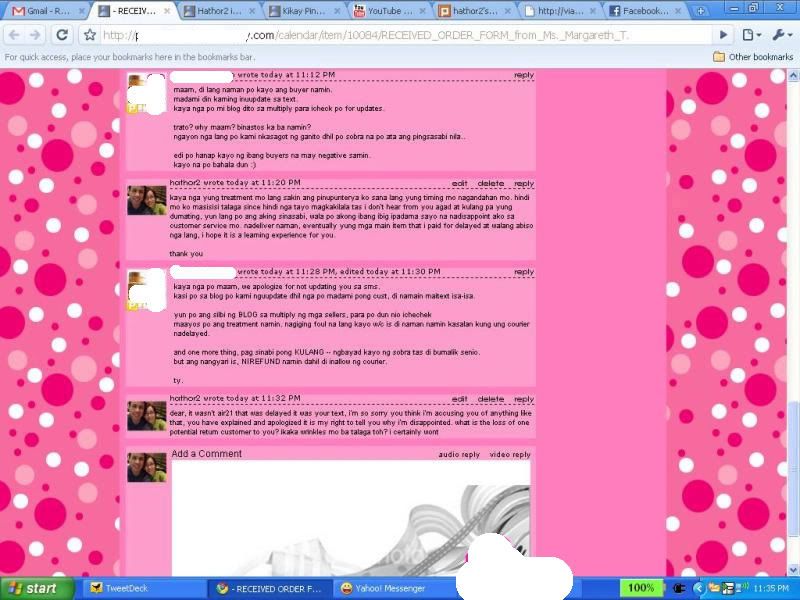 and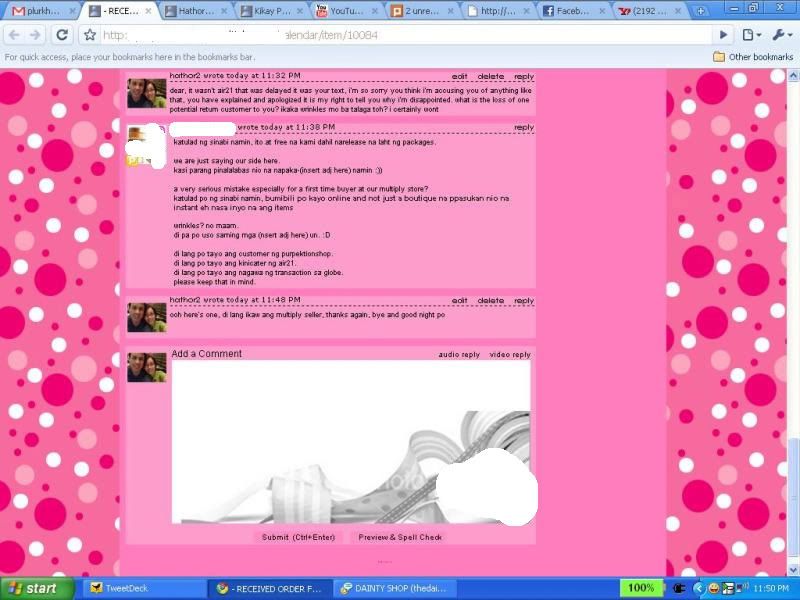 so what happened is i am a csat kinda girl forever saying sorry to my end users for the aggravation i or the company i represent caused my end user. i don't know how to translate butsi really but in context i think gripe comes close. also i have it on good authority that so long as you package your items well air21 does allow to send liquids.
if this rant limits my multiply stores that i can purchase from to the ones that already know me to be a good and fast paying customer then so be it, i trust them they trust me. but i've been getting invites from so many multiply sellers who want me to try their products. so yeah her last comment btw is "walang connect". meaning my comment that she isn't the only person on multiply that sells doesn't connect. in her mind maybe.
you guys decide but for a first time customer for this multiply site i felt like i dealt with a super non-professional. i just hope she doesn't do what she did to me to her ellana customers or anyone in general.