every time i go to makati i make it a point to do it on a weekend and make it a point to pass by the ellana minerals stall in front of the SM supermarket near the fruit stand. i guess i just like her stuff.

and recently i've been getting her eye shadows, and for my trouble she gives out freebie blush in fetish. if your want samples pls visit her website www.ellanaminerals.com and you only need to pay 50 for the shipping fee thru xend and she will send you samples of her foundation and a finishing powder. as you can see i also used her brushes to do my eye.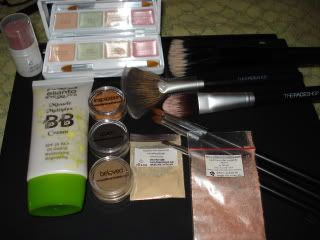 for my eye brows i used ellana's mid tone brown e/s called "beloved", it's matte and can be an e/s or used to fill in my brows. i also bought "inspiration" a really nice golden/champagne-y not so frosty, pearly gold and used that for my base. for the contour i used two colors, the beloved and revlon's matte in number 6. the liner is ellan's "raven". all three ellana colors ROCK TO HIGH HEAVEN. raven make my eyes seem whiter because of the blue in it. beloved is my all around neutral, and inspiration, i can wear that by itself and just wear mascara and it's great. oh not included in the pic is my max factor false lash effect and my shiseido mascara base.

i'm still iffy on the revlon matte eye shadows, it's possible green is just not good on me and it looks like a big bruise. which is why i muted it with the beloved brown.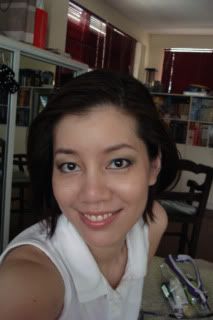 for blush i used the sample given to me when i bought these eye shadows, it's in fetish. it's a REALLY NICE, natural looking peachy pink color that applies really well, didn't make me look like a clown and just gave me a glow.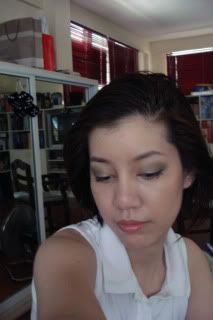 now before i go on to what is underneath all that, i would like to say that the finishing powder in espresso con panna saved my face. it says it's translucent BUT SOMEHOW it gave my face warmth. i give that finishing powder 5 stars for making me look like i have blood running thru my veins.

which i will now go to the elianto bb cream. it's actually my shade, i took before and after pix, so i am pasty pale white so white, that i decided not to post the pic so as not to blind you folks, and so this elianto bb is my shade, so i was still pasty pale white with it after i put it on, albeit my undereye circles were almost covered and that pores were less obvious. two thumbs up for that. so my flash hates me, so i went and took pics of myself in 3.2 megapixels and with no flash. it spreads very evenly, it's quite watery and you can use your fingers to spread and blend it. the elianto bb is not difficult to blend like my the face shop skin extra bb. the elianto bb has a yellow undertone unlike my faceshop skin extra bb and has spf. BUT this elianto bb has a STRONG SCENT. it stings my nostrils and the smell lasts as in i can still smell after 30 minutes. whereas the scent of my skinfood and the face shop go away after about 5mins. the elianto bb cream smell like a bad bulgary perfume. i'm used to medicinal or herbal smelling bb creams but this elianto one just taste like evaporated really old perfume mixed in with dracar noi and Fahrenheit, yaks, just showed my age there. so i really wanted to love this bb and it actually looks nice on me, but there is no substitute for the masters, i.e. the skinfood and the face shop. this weekend, once my order comes in, i'll check out missha and dr jart!

and there you have it, i really like the ellanaminerals products. i know, i know the pictures don't her products justice but i hope my words help. now i have to try their well renowned foundation and see.