this came in the mail last week, about 2 weeks after I ordered it off of
this ebay seller
. since i often watch
fuzkittie (youtube beauty guru)
's videos and the fact that i have that fringe/bangs thing going on, i thought i may as well get me one of these. below is a short video of her using the item i purchased (the pink thing on her head).

there are 3 or 4 colors available, but i got the black variety only because the seller had a discount on shipping (meaning hindi sya masyado nagmark up sa shipping) otherwise i would have definitely gone for the PINK, of course!

there are two of these rectangular pieces of "velcro" sleeves in the baggy. i can't read Japanese so at first i didn't know how to put it on. but either you slide it through your hair or just stick the prickly things to your hair, it would still latch on to your bangs or any part of your (head)hair. it works on thick, wavy guy hair, too, (er ye, may isang sumubok kita ko na lang suot nya yung isa).


so what the heck is it??? it's the one side of Velcro.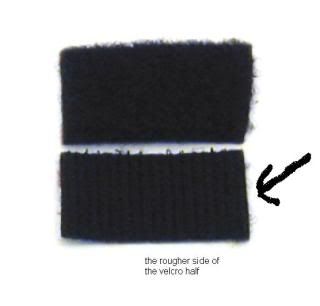 . so what the item will do is hold your bangs together without the need for a clip or rubber bands. it's used ideally while doing your face routine i.e. makeup.

so why not use a clip? a clip would give your bangs/fringe that bent hair look like a faux wave but a wave of one. rubber bands would do worse. and if i wear those hair bands esp the towel variety that are used in beauty parlors (with the velcro at the ends) i will end up having a head ache. i have those towel head bands and use them before i go to bed while i do my night time face routine. the part of my head where i have the head band on heats up pretty quickly (so ipit na, mainit pa, head ache na talaga).

so apart from not crimping your bangs while doing my make up i also use it as a pambahay, to keep my bangs away from my face (but not crimping them) and to avoid a headache, especially since i already wear one type of head gear which are my glasses. my head won't be able to handle clips and hair bands without them tugging my hair, heating my head, crimping my bangs.

it will keep several centimeters of the top layer of your hair held together or down. i just don't know how it will work for the really sponghado, frizzed type of hair that seem really thick looking


so yeah this Japanese product is a must have!