this week i ordered some stuff from www.ellanaminerals.com i figured paying for the shipping fee is so much less of a hassle than hauling my behind to sm makati, where her kiosk is, near the veg/fruit stand at the entrance of the hypermart.

my office mate ordered the baby kabuki
retailing for PhP300 and the foundi samples available only by ordering on the site. while my hunger for eye shadows obviously having not been satiated , i ordered confess and delicate.

since i had a bb cream (from the face shop) sample open, i used that for my makeup base and used a foundi sample i ordered from her a few months ago. i used the ellana mineral concealer in
revive
as an all over lid base. i used the shade in
beloved
a mid tone brown color from my lid to to just above my crease. then i used
confess
, a truly wonderful peachy pinky frost (but not really because you can buff out to frost to make it seem almost matte) on my crease to just a little over my brow bone. i then used
delicate
, a fantastic dark brown like a dark tamarind or bark on my outer v (corner of my eye). the website said these two,
confess and delicate
are frost but the shimmer will only show up depending on your lighting.

i used the the ellana brushes shown on the pic for my crease and lid. but used my favorite elf c shadow brush for the all over base color on my lid (revive). i used the ellana liner brush to line my eyes with ellana's
raven
.

thoughts on the foundation:
french vanilla latte
: wow, this thing is full coverage. i had bad lighting in the room, the clouds hid the sun, hala sige lang, buff that foundation away. i used my everyday minerals flat top brush, forgetting what
enkore said
that flat top brushes especially as dense as the EDM kind would really pack on the foundation even if it's loose powder. ok, so at first it kinda scared me but wow, i didn't need to remove my zits with photoshop using this foundation as it covered the redness. you can still make out the bump but hardly if any redness at all can be seen through the foundation.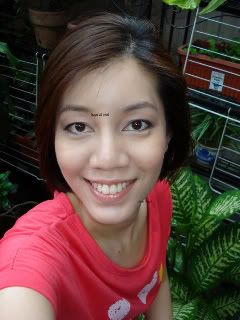 one might ask, but doesn't the bb cream cover as well? yes it does, but just slightly, since i hardly could see what i was doing, i followed the bare minerals guide of using the same foundation as a spot concealer, so i used the crease brush with its pointed end to dab the foundation concealer on those big zits on my chin and near my right eye (see captioned pic). the shade suits me well so it is good to know your mac liquid foundation shade since a great portion of makeup guru's and artists use mac foundation shades as a guide. so when i ordered on the ellana website i advised that i was an nc25, i got sent the
french vanilla latte in premium
and viola it's my shade. but as an alternative (since you get two foundation shades and a finshing powder) my 2nd foundi sample was
fairly light
. and if you've read my previous review i also have her finishing powder in
espresso con panna
which i used to warm up the
french vanilla latte
on my face and to avoid some shine.

thoughts on my new ellana eye shadows: at first i was REALLY afraid of ordering these online because i couldn't see them on my skin unlike when i visit her kiosk at sm makati, where i can swatch it on the top of my hand see how frosty they really are or how dark or how pigmented. the color payoff on the
raven and delicate
are great. it takes just a few dabs on the lid and a light hand to apply these shades.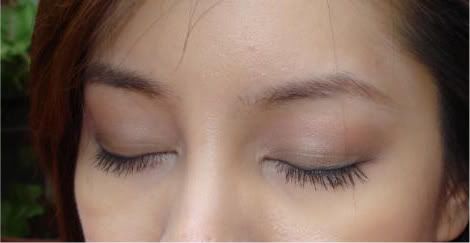 confess and beloved
are wonderful shades that are wearable and can be used for the office or for school. you need to buff
confess
in to get the shimmer out and a few applications of it to bring out the coral-ly pinky peach. i love how it's the perfect peachy pink shade that i've been looking for in a LIPSTICK shade. beloved has the same color pay off, you need a few applications of it to see the depth of brown it has, which is why i use it for my brows, it's the right consistency to fill in brows and all i have to do is reapply if i were to use it on my lids if i wanted it the color to look fuller.

oh and for my cheeks, i used the free sample i have from when i purchased something at her kiosk, called
fetish
. the website said it has frosty shimmer, i guess mine doesn't but i love how it's so soft and has that coral-ley peachy pink i've been looking for in a lipstick.

a rainy day: but that didn't stop the pic taking: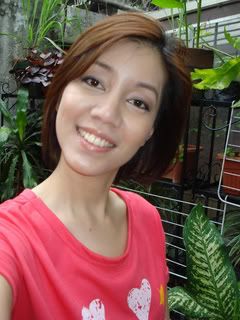 blouse is from
erika's the dainty shop