this is a review on a g-lish gelato cheek treat. it retails for a hundred bucks at the g-lish kiosks at sm mega mall, trinoma, and their other branches, sorry i forget their other locations. you can also order this off the web by going to www.g-lish.net .
g-lish is a Filipino company and their price range is very similar to the price ranges of elf (eyeslipsface.com). i have a couple of their gelato eyescream that i reviewed HERE.

this time the label is large enough to include a listing for the ingredients at the back of this swivel stackable type of container they have for their pressed powder blush on. INGREDIENTS: Talc, Mica, Castor Oil, Pigment, Fragrance, Antioxidant.

the sales lady said that the number 4 is their most popular and sellable. she swatched it on the back of my hand and it was matte and it was nice peachy pink and i bought it.

based on what i've observed from makeup guru's statements matte anything is hard to do. apparently shimmers are sort of fillers like how adding potatoes in adobo is a meat extender (ha by adding a carb source). oh basta yon, madalang lang daw ang matte eye shadow, blush, and bronzers. only big name brands have matte stuff even then it's combined with shimmer stuff. only recently did revlon came out with their matte line, about a year ago, and finally revlon has begun to import them here.

so when i saw this FILIPINO company that sell their products at very very affordable prices sold a matte blush, i was sold.

i recommend a very light hand or a fan brush like this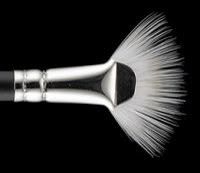 or a stippling / finishing brush like these
to apply this almost pure pigment blush from g-lish. also, better yet, apply the blush first before you apply your finishing powder or pressed powder. this thing is so pigmented. the shade is fantastic. number 4 is a nice coral peach pink and gives me a healthy glow, but if i'm not careful i'm liable to end up looking like a clown.

this thing is wonderful when first applied. it doesn't fade what it does is OXIDIZE on my skin. i never darken any foundation or powder, my face just ends up absorbing it or melt any product i put on it except for revlon's color stay foundation for oily combination skin. so to my surprise after a couple of hours my blush turned to a bronze orangey color on my cheeks. blehyuck. so i kinda look muddy. (as you know am not in to the bronze look, i'm pale so bat pa ko magiiba ng look). so final recommendation, don't listen too much to the sales assistants, try out the products first, go around the mall, then see what it ends up looking like on your face.

would i buy this again? no, probably their shade number 1 which is their baby pink shade.