i bought this bb cream back in may and i've been wearing it almost everyday since june. i think after about two months i can safely give a proper review on this bb.

FIRST THINGS FIRST, WHAT DOES BB STAND FOR? bb means blemish balm. it first came from Germany and was intended for post op coverage and treatment of cosmetic surgery in case the patient needs to go out. bb creams are supposed to be an all in one cream. short of being a blusang itim bb creams are proclaimed as the only cream you need since most of them have SPF of at least 15 or 20. most of them have moisturizing properties, are used as makeup bases or primers. some have oil controlling factors. some have whitening features. some have anti aging properties.
most of all, by the very name, the product is a blemish balm. TAKE NOTE I DON'T KNOW WHAT ON GOD'S GREEN EARTH A BEBELISH BALM IS, Korean speak english and well enough so i don't know what this "bebelish" is all about. all of these creams are supposed to help heal scarring and other forms of blemishes. it's supposed to be a miracle cream because of its challenge of being an all in one product. I have seen the German bb cream online, but it's like a hundred U.S.!

i wanted a bb, as in I WANTED! my first bb ever was the face shop's skin bb cream with spf20 pa ++ click to read my review that was pretty ok except for the pinkie gray cast (parang ly-na at chin chun su) and the baby powder mixxed with dimetapp scent. i also bought the quick and clean bb cream from the face shop (review on that hahaha someday).

currently, there are only 2 big named cosmetics brands from Korea in the Philippines, they are the face shop and skinfood. this ginko bb is one of my first purchases from skin food. i'll find out tomorrow if laneige has finally opened in trinoma, it's been under construction for the longest time.

what's a review without pix? here's my bare face without anything on my face, not even moisturizer.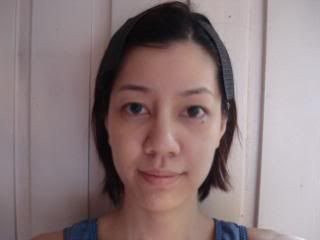 here's a pic of me with the ginko bb on my face
wahaaa, almost no change! well, i see it, my skin tone's evened out, there's less of my under eye circle and some of my gray zit scars have been covered, sheerly but well enough to see it, i mean NOT see them. and an after picture setting it with my favorite tns mineral foundation, my current favorite lip and cheek stain from vmv in water melon, mascara from max factor 2000 calorie false lash effect, and tight line with prestige's midnight blue water proof eyeliner, nudy grey geo lenses available from my trusted multiply sellers trinketi and dainty shop. since i didn't know my grade when i got the geo lenses i bought the contacts without grades on them.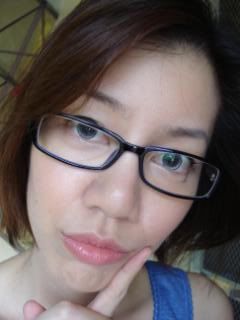 THOUGHTS:
as a primer/foundation: it's a cream, it's a whole lot easier to apply than my tfs skin bb cream, since skinfood's ginko bb is runnier. i bought shade number 2 in natural beige. it's yellow based and looks like any foundation as compared to dark ones like doctor jart's bb. shade number 2 is a bit darker on my skin upon first application but it somehow adapts and as you can see my face is almost the same shade as my neck and shoulder.
as a primer, which supposed to make your makeup last longer, this ginko bb cream fails in doing that. it's a tinted moisturizer at most in that department.

AS A SKIN CARE PRODUCT: ginko applied on the face is supposed to be an antioxidant. all i can say is, after 2 months, i've had no break outs with this bb. well wala rin naman kong break out with tfs skin bb, in fairness.
the cream doesn't smell bad! it kinda smell like a plant. though some might smell a plastic-y scent, i kinda like it. does it smell like ginko? no i haven't taken any ginko capsule/tablet that smells like this cream and i've been taking ginko biloba tablets for school (instead of glutaphos) since my BSPT days.

NO SPF! this is the only Skinfood bb that do not contain sun protection factor out of all the skin food bb's. so i either wear it with
or mix in the face shop's skin bb.

ALMOST ZERO TO NO OIL CONTROL. i have to blot in about an hour, even with mineral foundation on top (tns' mineral foundation has kaolin clay). i still get shiny on my t-zone almost right away. which brings me to how long it lasts.

LASTING POWER: because my face is oily nothing lasts long on it except revlon's colorstay foundation with softplex for oily combination skin (SPF 6). the skin food ginko bb doesn't last on my face, unless i mix it with either the neutrogena sun block or my tfs skin bb. as i write this review, there is less and less of the skin food's ginko bb's coverage and my pores are much more apparent now then when first applied.

THE PACKAGING: it doesn't have a pump but it comes in an up side down tube as shown in the pic. like your rimmel stay matte foundation or your revlon active light foundation. it contains about 1.76 oz or 50 g and the tube is easy enough to squeeze out the product. None of the skin food's bb's come in a pump.

PRICE: may vary depending on which country you get it or from which ebay seller you get it from. i got this from the landmark skinfood stall at trinoma. (hahaha di parin sinabi yung presyo)

WILL I BUY IT AGAIN? NO. not just because of the aforementioned thoughts but i need a bb for oily skin or oily combination, and the recently released peach sake and agave cactus bb from skinfood are for such skin types.