| | |
| --- | --- |
| Category: | Restaurants |
| Cuisine: | Other |
| Location: | TRINOMA |
it's sizzling plate.

you get Japanese style sizzling dishes such as my oyaki chicken order and benj's
beef pepper steak shown here: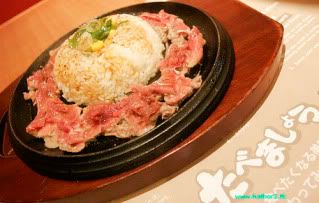 .

THE PLACE/AMBIANCE: it's a diner, had booths, and a row of tables. not much ambiance but it's a family sorta diner.

THE SERVICE: service was a little slow. but benj got his order first. so he got his facial steam ahead. my order came about 20 minutes later! the waitress apologized and claimed that the oyaki chicken really takes whole longer to cook than their usual beef pepper steak.

THE TASTE: I liked benj's order. i didn't like my order. benj liked his order, benj ate some of my food if not a good portion of it. the nature of the serving and the theme is sizzling, yeah, i get it. but i didn't like it. it took forever for my food to arrive and even longer for my food to be just the right temp for me to gobble it down. paubos na saksakan parin ng init ng rice, nung chicken even the scrambled egg that surrounded my dish
. the portions were big at least commensurate to the high price of each dish. also, i found, for both our dishes, had watered down tastes. like it the idiomatic expression of saying "it's commercialized" kulang sa lahat. kulang sa alat, kulang sa tamis, kulang sa lasa, ang hindi lang kulang ay sa init. have i mentioned it was still super hot even at the very end of the meal? my tongue was sore leaving that restaurant.

THE PRICE: well, i'll just go back to my old reliable pan cake house kung ganon rin lang (actually more expensive at sizzlin' pepper steak).

THE VERDICT: benj liked his order and for once in several weeks hindi sya bitin, but i won't go back. just like shabu shabu, i don't like the idea of eating out to cook my own food. well don't take my word for it, as usual my disclaimer is, i could've just ordered the wrong thing again or it's possible my order is better at the robinson's galeria branch.