Purchased this with my own money, this is not a paid review.

Still another of my older reviews from last year written on epinions under my usual hathor2 handle. of the seaweed line from the body shop this scrub is prolly what i liked best. had it not come with the body shop price tag i'd pick this facial scrub anytime over st ive's harsh apricot scrub -->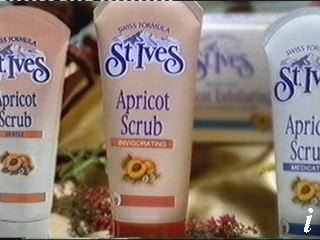 from the body shop website:

(http://www.thebodyshop.co.uk/invt/32595)


Best if you want to: Get a clearer, more radiant complexion with a creamy, gel-scrub that deep cleanses blocked pores and exfoliates with jojoba micro-beads.
How it works: Community Trade bladderwack seaweed balances skin tone and purifies and clarifies the complexion.Jojoba micro-beads gently exfoliate skin and help unclog pores.Olive stone granules effectively exfoliate shiny or combination skin.
Key Ingredients:

Jojoba micro-beads: Provides gentle exfoliation and help unclog the pores.
Wild-harvested seaweed: Is renowned for its conditioning and hydrating benefits, while its non-oily nature makes it particularly suitable for normal to oily skin.

Price: $14.5

Size: 2.5 fl oz

My experience:

Because I bought the whole seaweed line, trying out this facial scrub was a must. It comes in a tube, an upside down squeeze tube so ideally I can squeeze all the product out when it's nearly finished. The website says that it isn't soap, so ideally their seaweed exfoliator is less harsh. The first thing I noticed when I was lathering it up on my face was the pleasant smell. The smell was soft and not overwhelming. It doesn't smell like rubber or old paper like their seaweed mattifying day cream. The texture of this facial scrub is light and only the brownish peachy beads give it color, or at least to me it seemed like it.

The beads on this exfoliator are bigger and alot more of them compared to the tiny and fewer beads I found in my total effects cream cleanser. Because the beads are bigger and are more in number I don't feel that all of the beads slowly rolling away from may face and go towards the spaces in between my fingers down to my palms like the beads in the olay facial cream cleanser's beads do. The lather isn't too thick either, it's more of the beads that I move around my face until I feel that the wetness is slowly disappearing. I use it about two to three minutes especially around my t zone are where I get alot of black heads, where I am oily, and where my pores are quite visible.

The feeling I get after I rinse is a very soft and velvety clean on my face. I am not sure about the exfoliation I actually get because every so often I use a pore tape on my nose to try and lift off black heads. If anything this exfoliator cleanser is a good cleanser. It takes my make up off and if I forget and go over my eyes, it takes off the sticky eyeliner and mascara, too. So I don't see any left over dark gel-creamy crud at the outer corners of my eyes which would be the remnants of my eyeliner and mascara from today's make up. So compared to the olay cream cleanser (with only some beads), I don't do a do over on my eyes to clean any remnant make up, besides, the most exfoliator instructions say not to use this exfoliator on your eyelids anyway.

I like the price, too, for once. Because comparing it to Lancome's Exfoliance Clarte, this body shop exfoliator is less than half Lancome's price. Comparing it to olay's cream cleanser's price which is around $9, paying extra for an exfoliator is ok since the product lasts me a great deal, a little goes a very long way. I just write on the bottle the date I opened it so that I know if a year has passed already. The tube tells you how long it is ok to use it by since they put 12M for twelve months on the label for it's expiration.

If scrubbing either with loofa or jojoba beads like what the product has, then a few minutes of rubbing this on your face would make it a good scrub or exfoliator. The size of the beads that are on my fingers and face tell me that I am getting a good scrub just like the beads from the St. Ive's apricot scrub only this body shop exfoliator feels softer and more soothing on my face. The body shop exfoliator is not soap based so I like that because it isn't too harsh on my skin.

It's a good cleanser, the exfoliation would be up to you depending how long you rub it on your face and neck.

Recommended:
Yes if you prefer the smaller beads and smother consistency of this product over St Ive's Apricot scrub cheaper alternative but have rougher and harsher beads.