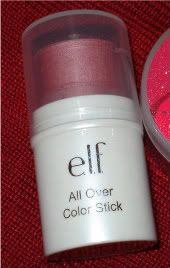 kinda looks scarily dark in the container.
but once opened, the top reveals a slightly dark pink with a subtle sheen.
i hope you can see the sheen on the back of my hand.
the sheen only shows up depending on the angle of the light.
it doesn't stain my finger when i spread the product with my fingers.
it gives a subtle sheen on the darker pink side which i like
the only draw back i find is that it doesn't last all day. and it oxidizes. but in my case it oxidizes in this nice pinky-salmon-peachy kind of shade which suits my coloring and complexion.
LIKES:
the price it's US$1.oo that's kinda tough to beat but of course it's almost 2-3x that price if you buy it the Philippines. so it's not a great idea to have an ELF haul in Manila. i just buy one product at time so i don't feel cheated that i have to pay their mall rent, the shipping and so much tax.
the shade: i love the pink and it suits my complexion and coloring, even when it oxidizes it still pretty on me
doesn't have a sticky texture and it's easy to apply, spread and therefore blend
it doesn't break me out
the packaging is easy to use and easy to carry around
DISLIKES:
the scent, it's a tad too strong but it goes away quickly so i can tolerate it.
the subtle sheen and it doesn't last on me
the pricing in the Philippines
Will I repurchase:
most likely i will, but i may try their lilac petal because it reminds me of my liole blooming tint only diff is the subtle sheen